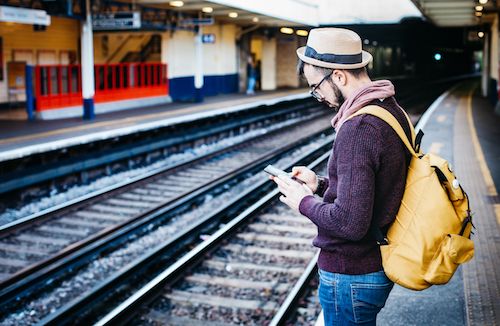 You've heard all about them, you've seen all about them, you probably have one in your life, you might even be one… Millennials. Millennials are one of the newest generations, and are currently coming about into the workforce full-force as they mature into adulthood.
Generally speaking, Generation Y (Millennials) are those born between the years 1981 and 1997. According to HubSpot, there are currently 80 million in the United States—nearly one quarter of the entire population. With an annual buying power of $200 billion dollars, they are also the most lucrative market to engage with. What does this mean for businesses?
If you're not reaching Gen Y, then you're missing out on a selling opportunity. How can you engage with those 35 years and younger? Check out five ways to market to Millennials.
1. Go mobile.
The best way to market to Millennials is to have a mobile-friendly website. This means when customers pull up a website on their phone, they're not stuck looking at tiny font and searching for an impossible button to find. Mobile websites have a completely different design than their desktop counterparts, so invest early. According to Facebook, 55% of Gen Y use only their mobile devices to access their profile pages or the Internet. This means if a business website isn't mobile-friendly, chances are Millennials won't bother engaging with it.
2. Get social.
Get on social media. Leadscon found that around 65% of Gen Y will like a company or brand's page they enjoy on Facebook and Twitter. If a business is not on social media, Millennials automatically view it as not worth their time or even untrustworthy. Be sure to focus your marketing efforts by reaching out to the Gen Y population via social networking platforms such as Facebook, Twitter, LinkedIn and Instagram. Optimize your social content to be engaging and exciting to drive traffic back to the website.
3. Be authentic.
According to Forbes, 43% of Millennials rank authenticity over content when consuming news. With spending so much time online, Generation Y craves content, but even moreso, craves an authentic and values-driven brand. Unlike past generations, Millennials aren't going to fall for the age-old advertising tricks. They want to engage with businesses that appeal to their values and show their true colors. This means showing the inner-workings of your business, being real in content marketing and providing programs that help make a difference in the world.
4. Share word-of-mouth.
More than any other generation, Millennials are engaging through word-of-mouth marketing. If they hear a recommendation from a friend or coworker, they are more likely to buy and try the product than they would be from a traditional advertising method. This means getting out and meeting Generation Y where they stand, offering samples and even offering recommendation compensation. The more word-of-mouth marketing you can target, the more successful the campaign will be and the more Millennials will be engaged.
5. Turn creative.
Finally, get creative in your marketing strategy. Millennials have been targeted with advertisements since before they could walk, and are constantly bombarded every minute of every day with messages to buy this and try our product. If you want Millennials to engage with a brand, you have to catch their attention first. Get creative with your marketing strategy. Maybe it's a guerrilla marketing campaign, maybe it's a social media competition or maybe it's a completely new tactic. Think outside the box and see what you come up with next.
When it comes to marketing, Generation Y is the next big step. Try out these tactics to see how you can connect with Millennials, drive them to a product or service and grow business.