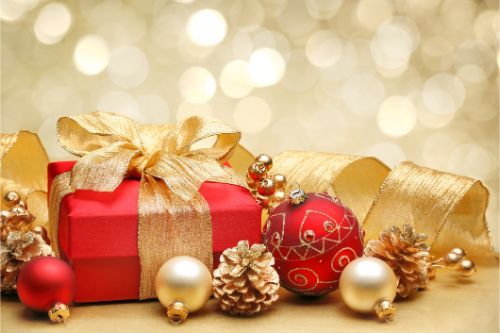 Happy December! The holiday season is officially here, and for marketers, this means it's time to prepare for the busiest shopping time of the year. This year, the 2018 holiday season boasts the longest-possible calendar difference between Thanksgiving and Christmas, with the maximum 32 days. For small businesses, it provides ample time to get on board the holiday train and market your products or services.
According to a study performed by National Retail Federation, Americans are predicted to spend more money on gifts in 2018 than 2017, with an expected increase of 4.3-4.8%. This results in approximately $720 billion! That's a whole lot of potential revenue for a small business. Of course, holiday income doesn't generate itself. If you really want to rake in the sales this holiday season, you have to prepare for it… through marketing. Head into the season of sales with these tips for how to prep your marketing for the holidays.
1. Be active on mobile.
You've heard it before and you'll hear it again: the future of marketing is mobile. According to comScore, users spend an average of 69% of media time on their smartphones. As you prepare for marketing this holiday season, be sure the business is able to compete in a mobile market. Update your website so it is easily accessible via mobile, be active on mobile social media accounts and consider how you can reach customers through their devices. 
2. Schedule promotions.
Next: have a plan in place for the weeks leading up to the holidays so you can schedule promotions accordingly. During this season, consumers are overwhelmed with advertisements, which means your efforts will go unnoticed unless they are planned intentionally. Schedule the weeks leading up to and through the holidays with promotions and goals, so you can take full advantage of the season.
3. Create holiday-themed giveaways.
Everyone loves a giveaway, and the holidays are no exception. Social sites tend to see an increase in traffic during the winter season as everyone heads indoors. Take advantage of this momentum by creating a holiday-themed giveaway as part of your marketing plan. For instance, try a "12 Days Giveaway," or a follower contest for "Best Holiday Tree." Center the giveaway around the holidays to make them appropriate and engaging.
4. Diversify the holidays.
There are a variety of different holidays to market with during the winter months. While Christmas and Hanukkah tend to be the most popular, holidays like Kwanzaa, New Years and Super Saturday can also see sales. Diversify your holiday marketing this year by focusing on holidays big and small this season. 
5. Master the CTA.
Finally, use the holiday season as an opportunity to master an effective Call to Action (CTA). For many marketing campaigns, their downfall comes in the form of a weak CTA. A CTA bridges the gap between the marketing and the sale, so make sure your calls to action are strong, direct and clear. Once the customer views the advertisement or message, what do you want them to do? Get creative with your calls to action this holiday season to increase sales.
The holiday season is here, which means marketers should be ready to jump on board and ride the train through the end of the year. Be sure to use these tips as you prepare marketing efforts to take advantage of the biggest shopping season of the year.