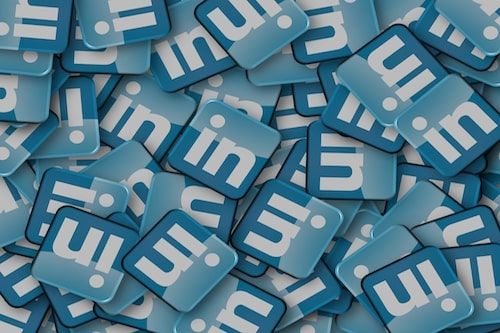 In today's online marketing, social media is at an all-time high. One of the most popular social networking sites for marketers? LinkedIn. With 610 million users, LinkedIn is definitely something worth investigating for small businesses. The platform is all about building networks, making connections and meeting those connections' connections. 
Therefore, the greatest power of LinkedIn for business is its enormous ability to grow your brand through word-of-mouth. In fact, according to The State of B2B Digital Marketing, LinkedIn is the top-rated social network for lead generation. But how can a small business actually use LinkedIn to grow its marketing efforts? We can think of a few ways. Here's how to use LinkedIn to your advantage. 
1. Set up a company page.
The first step to maximizing LinkedIn is setting up a company page. This is unique from what most refer to as a personal profile. Instead, a company page is specific to the business, not you personally. First, create a company page on LinkedIn. Then, choose a clear logo photo as your profile picture. Finally, add in a description for the company and include industry-related facts in terms of the company's size, location, year founded, etc. The more information you include on the company page, the more likely people will be to find you on LinkedIn.
2. Connect with employees.
Next, connect with any employees at the business. Even if you're a small business with less than 10 employees, still connect with them. According to LinkedIn, employees have 10x more first-degree connections than the average company. Employees are your biggest advocates, so by connecting with them and encouraging them to follow the business page, you can also tap into their vast network of connections. Plus, if they add their position at the company to their personal profiles, their page links to yours, giving you more potential leads.
3. Define your audience and goals.
As with any marketing initiative, you still need to define the audience and goals in mind for LinkedIn. Otherwise, your posts can come across a bit scattered, making the business look unprofessional. Decide what you want the company to gain on LinkedIn. Are you looking to hire new candidates? Perhaps establish yourself as an industry thought leader? Or simply generate more leads for the business? Decide on who your ideal follower is for the LinkedIn page, then target your content to fit their needs.
4. Optimize for search engines.
Fun fact: LinkedIn company pages are designed to be SEO friendly, which means you're already set up for increased visibility; you just have to take advantage of it. Optimize your LinkedIn company page by including keywords in the profile description. For instance, include phrases of what you do or specific words that encompass the brand. Then, include links for your LinkedIn company page on the business website, blog, other social media posts and email newsletters in order to drive traffic through the page.
5. Publish interesting content.
Finally, choose the content you publish carefully. The most effective way to increase engagement on the LinkedIn page, boost search engine results and improve lead generation is to publish consistent, relevant subjects. LinkedIn recommends posting at least once per weekday for ultimate engagement. For example, share content on jobs and career information, relevant company news and any insightful professional themes that followers might find interesting. Then, keep track of how well your posts are doing through LinkedIn analytics.
LinkedIn is a valuable social media source for any small business marketing efforts. But, you have to know how to get started. As you use LinkedIn to your advantage, keep these tips in mind in order to boost your LinkedIn page, increase traffic and grow your brand.