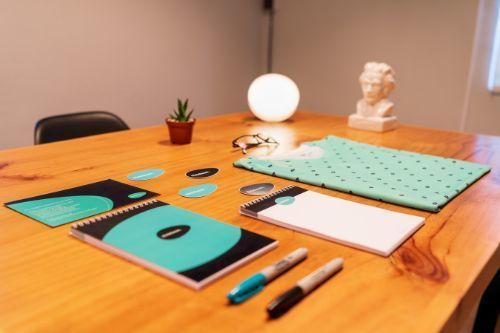 February is often seen as a month of love. After all, Valentine's Day is right around the corner. In the marketing world, it's not about whether you're taken, in a relationship or in the words of Facebook… "it's complicated." 
Instead, take time in February to show some other wonderful people in your life how much they mean to you. Use this month to show your customers and your employees how much they mean to you, all while getting your name out there. Check out seven pieces of swag to gift your team members and customers that they will absolutely adore!
1. Pandemic-Fighting Swag
This is an opportunity for your business to stay relevant AND send branded gifts. Think about new items that people are using every day that they didn't need more than a year ago. Consider offering branded facemasks or hand sanitizer with custom labels. You'll be helping to keep the ones you love safe all while keeping your company top of mind. 
2. Pens
Give your customers something to write home about. Pens are relatively cheap to print and you can hand them out like candy. Plus, when they're in a pinch looking for something to scribble down their next great idea, you'll be there to lend some ink. You can never have too many pens.
 
3. Coffee Mugs
You'll be the first thing they think about when they wake up and drink coffee and the last thing they'll think about when they make their nightly tea before bed. The more all-out you go with your mug design, the more likely they'll use it over and over again. Cheers to that!
 
4. Custom Gifts
Whether for your customers or to remind your team members that you care, giving a specially-made gift shows that it came from the heart. While going the extra mile to print items with a first name, for example, may be a bit more pricey, it's worth it to establish the relationship. When a gift comes personalized, it shows that you put extra thought and effort into choosing it. May we suggest a customized chocolate box for this month? 
5. T-shirts or Clothing
Fashion is considered a walking billboard. Plus, who doesn't love some new threads? Put your logo on a new T-shirt or hoodie. Make sure to select comfortable fabric and choose items that fit your general demographic to increase the likelihood that your recipients will absolutely love their new swag.
 
6. Notepads
Notepads are where all bright ideas are written. Stamp your name or an inspirational sentiment at the top. Consider a writing prompt for your employees. Add your logo to the bottom and you've got a slick-looking gift to help the recipient keep track of their to-dos.
 
7. Stickers
You can put them on laptops, bike helmets and even on cars. Make sure your brand sticks to their memory with custom stickers. Don't be afraid to think outside the box here. Instead of just a branded logo, consider a quote that resonates well with your audience. They'll be more likely to put the sticker in a prominent place where they can always see it. 
It's time to gift some swag to those you love most. Not only does it show your customers and employees that you care, but it also keeps your brand top of mind. The sky's the limit with what you can print, so don't be afraid to get creative. How will you show the people you care about that they mean the most to you?