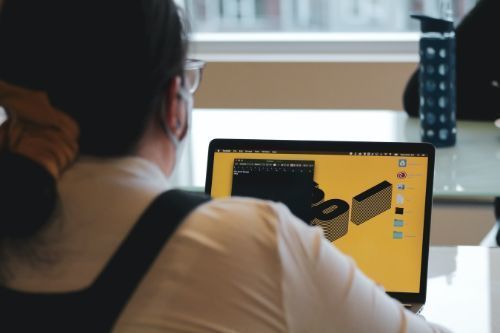 Marketing for businesses is often a game of old world vs. new world. But instead of pitting the two against each other, it's time to reframe your thinking. Who says two proven marketing methods can't coexist to form a super strategy? 
We're proposing a world where your printed brochures and your social media posts can live in harmony. Let's explore how you can best leverage your offline marketing materials to support your online marketing efforts, and vice versa. 
Start with a Consistent Message
A successful marketing campaign stays consistent with messaging no matter the channel. The first step to building a cross-functional campaign is to decide what goal you're trying to accomplish and what you're trying to say. After establishing your goals, write out your key points and your key messages. Then think about how those will best translate to your offline or online tools. 
Consider this—just because a hashtag is a social element doesn't mean it shouldn't live on your physical printed marketing pieces. Develop hashtags and a call to action that you can include on your direct mail pieces or posters to encourage your audience to take their offline interest in your story online. You can also send a mailer and encourage people to take a picture of it and use those hashtags online that you create.
Choose Your Channels
After you've identified your goal, it's time to choose your channels. If possible, try to get the same audience offline and online. This is made possible by keeping the most accurate and up-to-date records like email and mailing address for your customers. 
Some examples of cross-promotion include using brochures that drive business back to your website or creating excitement via email for a special surprise that's on its way in the mail. Use one channel to promote what's coming next. Or, as we'll discuss below, you can use channels to immediately mix the offline and online experiences. 
Mix Your Channels
Artificial intelligence sounds like something of the future but it's already here to stay. Simply put, it means that it is a task done by computers or machines that would normally need to be done by a human. You could use artificial intelligence to better identify audiences you're targeting. For example, there is capability online to identify total strangers who have been checking out your website. You could then prompt them with a digital advertisement asking them to enter their address for a mailed surprise. This is one example of how you can take the conversation offline after establishing the relationship online.
Using an app, you can also create physical objects, like a sign or a cardboard cutout, along with a QR code on the physical piece that opens up a fun online experience once scanned on a phone's camera app. There are endless possibilities to mix the online and offline experience just waiting to be designed and printed. 
Long gone are the days of choosing old school vs. new school. That's because when paired together, it's a match made in heaven. Both are effective at driving sales to your business and when integrated, your chances of success exponentially increase.