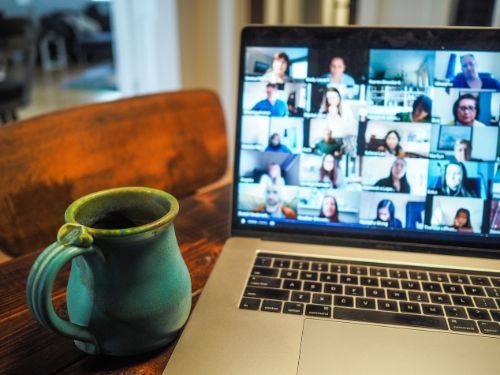 If you're feeling overwhelmed working from home every day and from a lack of social life, you're not alone. There are countless articles and studies written about how isolation affects our mental health. Like many living creatures, humans crave connection. While you may not be able to connect in the ways you're used to, there are still plenty of things you can do to make connections in a virtual world. Check out these tips to continue team building, whether you're a manager or a member of the team.
Embrace Small Talk at the Beginning of Meetings
There's one small thing missing when we jump on virtual meetings versus in-person gatherings. Small talk gets lost in the shuffle. While you used to pass the time at the beginning of a meeting asking about somebody's weekend or following up on an earlier personal conversation, now we ask, "Can you hear me? Are you muted?" There is a tendency to dive right in as soon as everybody has confirmed they are present and their audio is working. Instead, take a few minutes to purposefully catch up on personal topics in order to stay connected.
Be There In-Person (Without Being There)
Wait, we were talking about virtual team building, right? If you can't be there in-person, you can still technically "be there" for your team by sending a personalized mailer. Plus, when we're all quarantined at home, everybody loves to get a surprise in the mailbox. Print out a company planner. Add munchies for the next meeting. Once you've shipped the surprise, get everybody to open up their personalized box on a call together. While they may not be in the same room, you're creating a shared experience.
Turn Your Camera On
We've all been there. You jump onto a video call expecting cameras to be turned off when you realize that everybody else has their camera turned on. In a world of not knowing which way the camera will go, you can set the precedent by turning on your camera to create deeper connections. Keep in mind that Zoom fatigue is a real issue, so make sure to encourage your team to take off-camera time when needed. You'll find that more often than not, once you get used to the camera for team events, most are willing and ready for their close up.
Host Virtual Happy Hours
Host a virtual happy hour where work talk is strictly prohibited. This may be a little uncomfortable at first, but eventually the conversation will flow. You'll discover commonalities that may have never developed if you hadn't gone beyond the "meeting" calls. If you're worried about getting the conversation started, develop a list of pre-determined questions to ask that everybody should take a turn answering. 
You can also incorporate games into your happy hour to get people talking. Try virtual trivia where you form groups set up to help team members build connections. Randomly assign the groups so your team members have the opportunity to work with others that they may not know as well as their immediate teammates. You can use breakout rooms on virtual meetings for them to discuss their answers, or invest in an online service that has advanced muting capabilities.
We may not be able to do team building in-person, but there are still various ways to ensure your bonds come out stronger than ever. Turn on the cameras, send some goodies and don't forget to have fun! It doesn't have to be all business, all the time. Especially in stressful circumstances like a global pandemic. Get out there and get to bonding with your team!