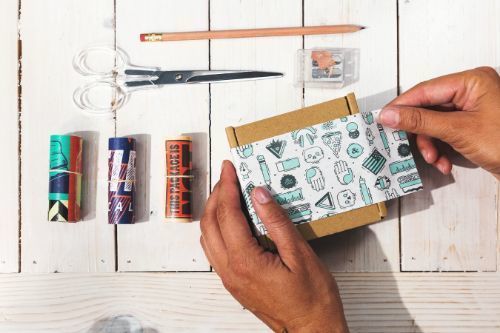 Your branding says a lot about your business. We're talking about your logo, font options and other graphic elements that are used consistently to identify your business. Branding is so important for a business that you probably don't even think about where or how you're using it. 
Your website? Check. Email newsletters? You bet. What about other places that you might not have considered? It's time to get creative with where and how you're marketing to your current and potential customers! Check out these five creative branding ideas that you probably haven't considered, but definitely should. 
Dinnerware (Cups, Plates or Napkins)
Take a page from the book of fast-casual Mexican restaurant chain Chipotle. When they look at napkins, they see more than just a device to wipe your hands. The team at Chipotle saw a chance to tell their story on every napkin, cup and to-go bag. If you're a fast-casual restaurant, then this strategy translates exactly to your business! If you specialize in something else entirely, there's still room to use this tactic for your next event. For example, you could use the opportunity to put your message on cocktail napkins or swag bags at your next big event. 
Packaging 
Sometimes what you put on the packaging is just as important as what's inside. Often neglected when sending out a direct mailer or a swag item, is how the goods actually arrive. By using your branding or other bright and creative designs, you're more likely to get your mail or package opened by your intended recipient. Why stop at imagery? Tell a very heartfelt story that relates to the audience, all printed on the outside of the package. You may even capture the attention of those who are helping transport your package to its final destination! 
Vehicles
Think of a vehicle wrap like a mobile billboard. While not for every business, if you're looking to pull out all of the stops at the next traffic light, this is a show-stopping option. Consider adding your branding to a work vehicle that travels around the areas you serve. That way, next time you're driving to a job or running errands for your business, you don't even have to think about the advertising… it just happens! Make sure to include your contact info front and center, whether that be a website or phone number. The easier to remember, the better chance that people who see the vehicle will follow up and inquire.
A Digital Billboard
Even billboards have come into the 21st century. While you used to have to spend big bucks on a single billboard and hope that your message was lasting enough to stick, you can now get your branding on a digital billboard that rotates with other businesses. That means less cost for you, and more places you can potentially get your message. Research for opportunities close to your company. 
Functional Items
Think differently for the times! Try sending a branded bottle of hand sanitizer to your customers or a branded face mask. If you can dream it, you can print it. It's time to think outside the box. Other more timeless options include notepads, lanyards, tote bags and keychains. Think functional and useful in everyday life. Your brand will always be top of mind as they reach to use whatever product you've decided to brand.
How will your business get creative and brand outside the box (or even ON a box!)? Use this guide as a jumping-off point to lead a creative discussion with your team.  You never know what's waiting to be a big branding win for your business.