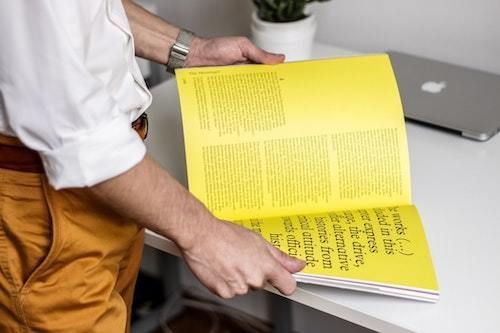 Thank goodness for technology in the time of a pandemic. It helped keep us together, even when we were miles apart. While technology is undoubtedly a tried and true marketing tool, there's something to be said for thinking differently and standing out from the crowd. In this case, we're talking about printed items that can help you stand out in an increasingly digital world! Check out these examples of when you can put your best foot forward with printed items to help the world remember what you're all about.
For Virtual and In-Person Conferences
Just because a conference or event switched to virtual doesn't mean you can't offer some of the same perks of an in-person conference. Think of the items you would have offered for participants in-person, and consider mailing them as a surprise to the homes of the conference or event participants. They'll love to receive the sweet surprise. 
If the event or conference is still in-person, this is your time to shine with printed products. Reserve a booth at an upcoming event where the audience matches your intended customer. Use printed signage and tradeshow swag to leave a lasting impression on participants. While you should stay within your brand standards, it's also important to leave a showstopping impression, so think creatively.
In the Mailbox
In a world of full inboxes, stand out in the mailbox. Printed direct mailers can leave a lasting impact because they aren't done as often. Sure, it'll cost you postage to reach your audience, but the return on your investment could be worth it. One study showed that the average office worker receives 121 emails a day. Can you imagine 121 pieces of mail in your mailbox? The numbers are significantly less. While you should continue to utilize email marketing, consider adding direct mail to reach your audience in a new and exciting way. 
On Vehicles
Vehicle wraps are a great way to mobilize your message. While not for every business, they can be a great option for a company with vehicles used for business. For example, if you have a company van or cars that your team members drive, this can be a great option to reach audiences you may have never had the opportunity to get in front of before with your message. Brand recognition is important in helping your audience recall your business in the moments where they need your products or services, and vehicle wraps are a way to help increase awareness in your community. 
Branded Swag
Think of products with lasting power. For example, offer them a branded coffee mug that they'll use every morning to start their day. Maybe it's a piece of clothing that's so comfortable your audience will wear it wherever they go. Stationary, pens and paper are all examples of tried and true products that make a great gift to your partners and potential customers. 
Think Outside the Box
These are just a few of the ideas you can use to get the printed party started! Don't be afraid to step outside of your comfort zone and think of a creative and innovative way to brand products to reach your customers. For example, maybe you want to run a summer campaign about beating the heat, so you send a branded soft cooler. Think about the message you want to send and what useful printed products you can send. 
The possibilities are endless when it comes to printed products to help drive forward your marketing efforts. Put your creative cap on and consider what you can design! Your audience will be excited to get a freebie or a message in a different way than the normal emails piling up in their inboxes. Get out there and get printing!