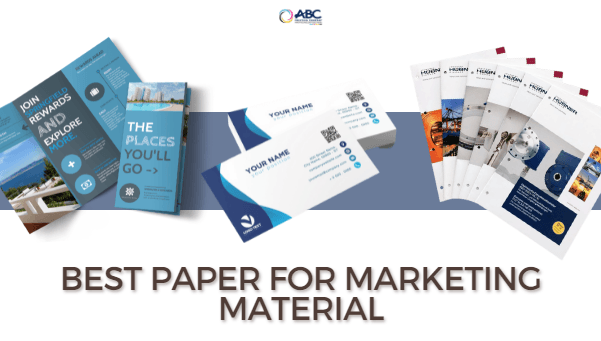 Just like how every marketing material is different, the paper used to print it is also different. There are several factors such as weight, paper density, thickness, finishing, and more to consider when selecting the best paper for your marketing material. The right quality paper enhances the impact of your marketing efforts. That's why it is crucial for a business to hire the right marketing agency and the printing partner who can help you tailor the right strategy for your marketing goals.
Paper Weight or Paper Thickness
The paper weight or thickness varies from paper to paper. The weight of paper is measured in grams per square meter or most commonly known as gsm. The gsm value lets users distinguish whether it's text paper or cover paper. Weight is the most crucial metric used in the print industry. Inappropriate or incorrect weight of paper may lead to issues with the print quality.
For instance, when you decide to choose light paper for leaflets or brochures, you will be able to see through the sheet, which completely impacts the look of the print on both sides. The right weighted paper with good quality print increases the chances of people noticing marketing material.
Different Paper Weights and What They're Used For:
90gsm: This is usually uncoated paper and does not go through chemical treatments. Can be great for bulk quantities of text such as books, printing documents, or others.
130gsm: This one is best for paper which requires a matte or gloss finish. It has better quality than 90 gsm and hence is a perfect choice for posters, flyers, magazines, and brochures.
170gsm: This is a thin paperboard. It has recycled versions, which are generally coated, matte, or have gloss finishing and even satin. Its main use is in catalogs, certificates, presentations, and posters.
350gsm: You would find this type of paper mostly in business cards, covers, and invitation cards for various purposes. It is a semi-rigid paperboard.
380gsm: One of the heaviest quality of papers and is perhaps the heaviest paper type. Used for folders, book covers, packaging, price tags, and as a display cover.
Other crucial metrics that decide the selection of paper are finish, size, and thickness. You would notice different marketing materials use different quality paper for superior results. Business cards use thick quality paper, whereas flyers or brochures use thinner paper to fit the budget without decreasing the quality.
How Do Professionals Select the Paper Type for Different Materials and Purposes?
Printing experts assess the paper thickness and weight before finalizing the weight of paper. For example, they choose a 130gsm paper weight for brochures and 350gsm paper for business cards. The weight and thickness give that finishing in the final printed product. Professional with years of printing experience understand clients and marketing requirements to select the right paper weight. That's why hiring an experienced printing professional is critical.
These experts also lay strong emphasis on finishing. For that, they choose between the coated and uncoated papers. Let's understand more about these two versions:
Uncoated: This is normally non-reflective and pretty similar to printer paper. Uncoated finishes add more texture than other types of glossy and matte prints. The only factor is that they don't have a protective layer which means they can be damaged very easily. Colors and designs on an uncoated version are generally more subdued but can come out sharp and clear giving the overall aesthetic a more classic and natural texture.
Coated: Coated papers are finished with an added surface sealant, mostly clay, to produce shine, add weight, and aid ink absorbency. There are many finishing options for these, and the most popular types are matte, satin, and glossy.
Besides these, a printing company will also discuss your expectations, objectives, and budget before suggesting the best paper for your marketing material. Professional printers also tailor their services around your budget and marketing goals without compromising with the quality. Hire some printing company that can align with your marketing goals for a successful collaboration.
If you are looking for a trusted printing partner, ABC Printing Company in Chicago can help you. We provide customized solutions according to client's needs. Our immense experience and high-tech machinery make us one of the best printing agencies in the region. We use the right paper and printing technique to give satisfactory results. We would love to help your business grow and scale new highs. Contact us today!