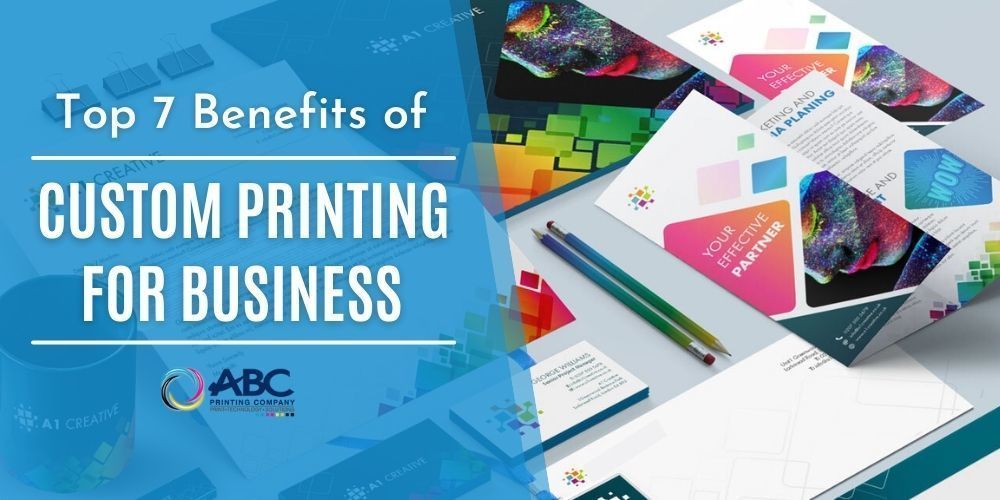 Custom Printing is vital for the growth of your business. Businesses of all shapes and sizes rely heavily on this marketing tool. It provides a cost-effective solution to promote your business and drive growth through an increased volume of sales and better brand recognition. However, it all boils down to how creatively you choose the custom products and their quality. Custom printing remains to be one of the most preferred marketing strategies because of its numerous benefits. Customized printing solutions are favored in the domain of business as it enables their customers to inquire about the brand's services by looking at its design. As a business you must leverage the benefits of custom printing in the following ways:
1- Custom Business Cards can be an effective tool
There is nothing like a Custom business card when it comes to positioning your brand. Business cards could never lose their charm. You must choose good quality business cards as it is the face of your brand. It tends to be an incredible portrayal of what your identity is. You must strive to leave a compelling first impression in your customer's minds. Make sure you find the right printing partner for this since finding the right pruning agency is key. It is the first step towards growth, and you should do it wisely.
2. Promote offers and services through brochures
Another effective marketing tool you can use is running promotional offers through brochures to attract customers. Brochures can be a highly effective instrument for your business growth and expansion. These brochures can be distributed in public places where people are most likely to visit. You need to carefully craft the message and deliver it to your target customers.
3. Custom Banners to Promote the Business Brand
Custom banners can help you convey your message to your target audience effectively like no other. It will boost your brand and increase the reach of your products and services. There is a wide range of options to choose from when it comes to banners. There are different sizes and materials to help you deliver the message to your customers. Make sure you choose it prudently and take its full advantage.
4. Brand Recognition
If you are someone looking to boost your brand recognition or thinking of launching new products, then custom printing is the best way to deliver your message. Placing a distinctive logo on your products is a perfect way to make your brand recognizable. 
Recognition is important for attracting new customers and retaining current ones. Whether you are a new business or an established one, it is beneficial for all types of businesses, no matter how old or new. In the world of marketing, there is a famous adage, if you want to grow, you have to be in customers' minds.
5. Cost-effective Marketing
The best thing about custom printing is that it is more affordable. If budget is a constraint, then you must go for custom printing services and products to boost your business. And if budget is not a constraint you should still try it along with other marketing channels because custom printing can prove to be the real game-changer. 
6. Creates a Long-Lasting Impression
With the help of custom printing, you can leave a long-lasting impression on your target audience. When you print a logo on your product, it'll remind customers when they use your products. By choosing the right custom products, you can win over your customer's hearts. Make sure you choose the right products that add some value to the lives of your target customers.
7. Customer Loyalty
Custom Products can also help you improve customer loyalty in the long run. We all know that we are likely to do more business with brands and companies that care for us. Custom products can bring your customers close to the brand and as a result, you are likely to enjoy better brand visibility and customer loyalty. When your brand name is associated with your products, it helps you retain your customers. The good thing about loyal customers is that they bring more customers. Nothing can beat the 'word of mouth marketing, hence by choosing good quality custom products and by bringing a responsible printing partner on board, you can enjoy all the benefits of custom printing.
There are numerous ways through which custom printing can be used to grow a business. However, it takes the right designs and branding strategies to outgrow the completion. It is also important to find the right printing partner who aligns with your goals and can help your business grow exponentially. ABC Printing Company has 50+ years of experience in custom printing. Located in Chicago, we have been supplying high-quality customized prints all over the US. To learn more about the benefits of custom printing for your business contact us.