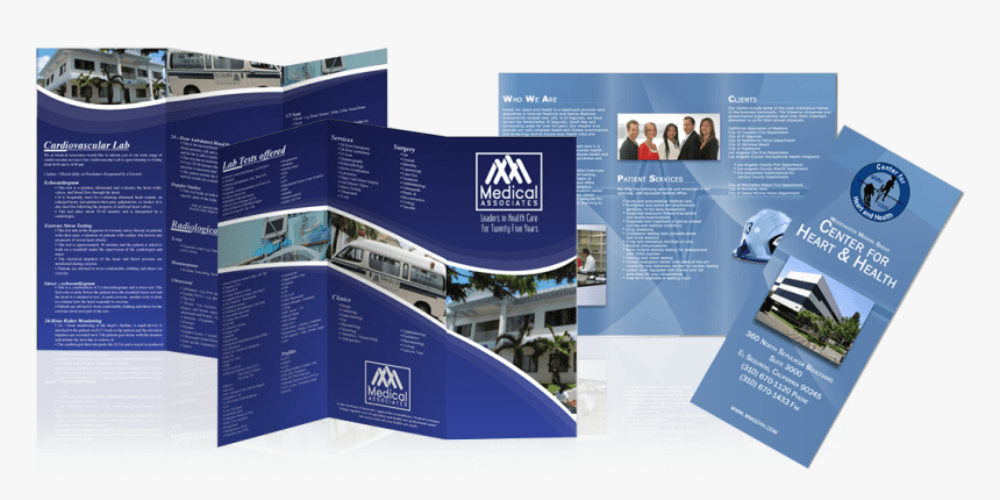 Business brochures are printed marketing tools for publicizing a business and its products/services. It is the classic way to reach out to interested customers or introduce new products/services to current clients.
As it contains all the required information about your business in one place, one notable benefit of a business brochure is that it helps clients in their decision-making. A well-structured brochure with summarized information about your products and services saves time for potential customers, old clients, and business contacts. Unlike a direct mail letter, flier, or catalog, a brochure has a visible difference of having one, two, or three folds.
What Are the Benefits of Business Brochures?
Business Brochures are a way to communicate the capability, dependability, and excellency of your product/service. These six benefits of a business brochure will help you consider it in your marketing strategy.
Simple to Distribute
It is comparatively easy to distribute business brochures. With strategic planning, you can distribute it easily. It ensures your business reaches out to more potential customers while providing engaging information to attract new customers. You can conveniently place your brochures on tables in your office or distribute them with promotional gifts.
Brochures Are Cost Effective
Brochures are low-cost marketing material when compared to some other marketing options. You can collaborate with professional print companies to design and produce attractive brochures within your budget. The cost can be reduced even further if purchased in bulk.
Boost Professionalism and Trust
You can boost professionalism and establish trust with your potential customers with brochures. Most businesses also include their objectives and ambitions in their brochures. These details allow customers to resonate with your business's commitment to the customers. Customers trust your business more when they can read about your idealogy.
Contributes to Consistent Branding
A professional-looking brochure makes a great first impression on potential customers. Your business brochures can easily stand out from the competition and draw the attention of potential customers with a distinctive design with consistent branding. To create the perfect business brochure, all you need is a custom brochure printing partner like ABC Printing Company.
Brochures Communicate More Effectively
One of the best ways to put all the information you need to convey in one place is with a brochure. Brochures can pack a lot of information into a few pages using modern design techniques. Customers love to research businesses before doing business with them, especially those who are more likely to use your services or purchase your products. You can give them all the information they require, as well as details about your history, your objectives, and how you intend to assist them in achieving those objectives, by having a brochure specially printed for your company.
Brochures Hold Lots of Information
Brochures enable business owners to condense a bundle of information into a small space. A brochure design may also include flap sections where you can describe your services and products. Brochures also provide more information than other types of printing, such as postcards or letters. You have plenty of space to convey your entire message, whether you want to include product prices or tell your company's story.
Demonstrate the quality and commitment of your company with a business brochure. Get high-quality brochure prints for your business with ABC Printing Company. We provide the most premium quality prints at competitive rates.