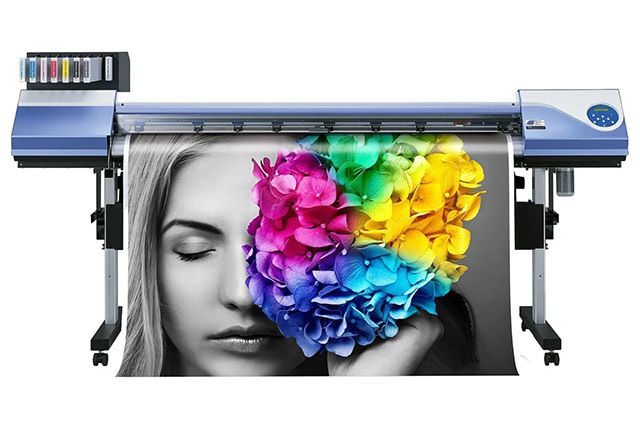 Whether we're talking about small businesses or large companies, there are situations where organizations require their marketing materials to make a significant impression. Large format printing offers the best solution for attention-grabbing advertising that's not too over-the-top. Trade fair displays, for example, can help businesses stand out from the competition, while posters and banners can be used to promote a deal or a new product. Basically, the benefits and creative potential of large size printing rank high among various means of hard copy advertising.
Advantages that large format printing can offer your business
For this reason, we'd like to share with you the main advantages that large format printing can offer your business.
Durability
To begin with, it's important to note that the large-format printing lasts considerably longer than conventional smaller advertising formats. Plus, it ensures that your intended message is seen by everyone.
Items printed in this format are utilized for longer periods of time, thus gaining more exposure to the public. Because of this, they are made from sturdy base materials that can withstand changing weather and climatic conditions.
Maintain your Brand
Furthermore, wide-format printing will definitely increase the visibility of your brand. This is a surefire technique to get your brand noticed by potential clients, who are more likely to remember your advertisement because of its eye-catching design and message.
The versatility of wide-format printing is its best feature. In fact, many types of marketing materials can be easily adapted to large-scale printing. In the blink of an eye, you may switch from stickers and window decals to banners and posters and vice versa.
High-Impact Advertising
Likewise, bigger is always better when it comes to attracting attention to your business. More people will see and discuss your message, especially if the banner, sign, or billboard stands out. With today's technology, you can generate crisp, clear, and effective advertising materials that will showcase your brand to the public with the help of the design expertise and quick generation that you would get from a commercial printing business.
Large format printed materials can help to raise brand recognition and give important information about the goods or services offered by your company when they are supported by a sound strategy and execution.
Enhance Communications
Additionally, your company can create long-lasting, crystal-clear, sharp content that is highly visible from a distance by using large format printing technology. Prospective customers in your target market will be drawn to the information about discounts and bargains on material printed in a large format, which will also help to increase brand awareness. Using a brilliant call-to-action in the display, large-format printing also attracts potential customers at exhibitions or trade shows and helps your company create leads.
They're Long-Lasting
Large printing projects are also significantly more durable than conventional smaller advertisements, ensuring that your intended message is seen by everyone.
For instance, billboards and posters must be able to preserve the caliber of your brand despite being left outside for extended periods of time.
As large format printing is constructed of UV-resistant and robust materials, it can tolerate continuous exposure to a variety of weather conditions. In addition to being versatile and robust, billboards and transit graphics must be able to withstand the elements and last through all types of weather. Large format printing is the way to go if you need to print anything that can withstand the elements.
As you can see, large size printing for your projects has many advantages. You will benefit from a sizable display surface for your printed product as well as UV-cured ink's advantages, which enable the printed material to survive rain, heat, and sunlight without suffering any damage.
They Produce Quality Prints
And because they include fine detail and clear images that can't be seen as well on smaller formats or printed material like business cards, large format prints are intended to be viewed both up close by passers-by and from a distance.
So, no matter what your current visual demands are, large format printing offers quality, dependability, and a sizable display space that makes your message and products stand out and be seen by the general public.
To understand more about the design and manufacturing steps involved in large format printing, contact our experts right away.